We would like to share an article on 'Culture Communication Forum 2018' featured in MoneyToday on August 31st. For further details, please refer to the article below.
글로벌 문화계의 리더들이 참여한 문화소통포럼 행사에서 송승환 평창동계올림픽개폐회식 총감독이 수상했다.
한국이미지커뮤니케이션연구원(CICI)은 문화체육관광부, 해외문화홍보원, 외교부와 함께 주최한 문화소통포럼이 지난 28 ~ 29일 열렸다고 31일 밝혔다.
특히 29일 오후 서울 용산구 그랜드하얏트호텔에서 열린 피날레 행사 '문화소통의 밤'에서는 한승수 전 국무총리와 손경식 CJ그룹 회장, 해리 해리스 주한 미국 대사, 사이먼 스미스 주한 영국 대사, 제임스 최 주한 호주 대사, 최정화 한국이미지커뮤니케이션연구원장(외국어대 교수) 등 각국 인사들이 참가했다. 문화소통포럼은 각국 문화계 인사를 초청해 한국 문화 체험 기회를 제공하고, 소통의 장을 마련하는 행사다.
올해로 9회를 맞은 문화소통포럼에는 미국 출신 제이미 추 알파걸 코믹스 대표, 이스라엘 작가 에란 카츠, 올가 스비블로바 러시아 모스크바 멀티미디어아트 미술관장, 프랑스 배우 노에미 나카이, 인도 사진작가 베노이 벨, 싱가포르 요리사 재니스 웡, 김정자 반가원 대표도 참가했다. 10개국 문화계 인사들은 28일 서울 명소를 둘러봤고, 29일 저녁 문화소통의 밤 행사에도 함께했다.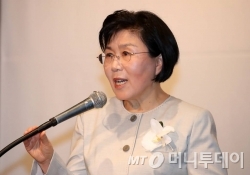 【서울=뉴시스】김선웅 기자 = 29일 오후 서울 용산구 그랜드하얏트호텔에서 한국이미지커뮤니케이션연구원(CICI), 문화체육관광부, 해외문화홍보원, 외교부가 주최한 문화소통포럼 CCF 2018의 피날레 행사 '문화소통의 밤'에서 최정화 CICI 대표가 개회사를 하고 있다. 2018.08.29. mangusta@newsis.com <저작권자ⓒ 공감언론 뉴시스통신사. 무단전재-재배포 금지.>