Young-jin Kim, CEO of Tchai Kim suggested the need for 'separation in role' for the globalization of hanbok. The CEO stated that when designers, artisans, and sales representatives keep communicating with objective perspectives in making hanbok, good hanbok can me made.
"Hanbok will be globalized when roles are separated"
디자이너 김영진 특강 스케치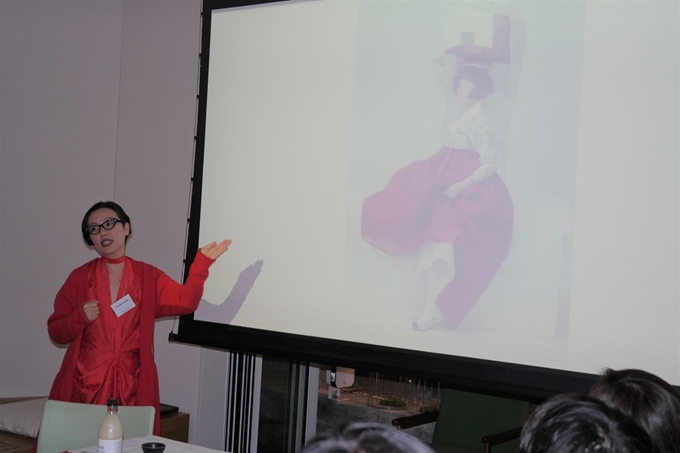 "처음 한복디자이너가 됐을 때 전통이 무엇인지 고민했습니다. 우리나라 복식사를 공부한 후 내린 제 결론은 '한복은 패션'이라는 겁니다." 디자이너 김영진(47) 차이킴 대표는 한복을 이렇게 정의했다. 6일 저녁 서울 가회동 '지우헌'에서 열린 '5·4클럽 & Korea CQ 한국 통(通)포럼' 특별강연 연사로 나선 김 대표는 "한복은 15세기 18세기 형식이 다르고, (한반도가) 전 세계와 교류했을 때 가장 민감하게 반응했다. 명, 청의 영향도 많이 받았다"고 말했다.
한복 맞춤 브랜드 '차이 김영진', 기성복 브랜드 '차이킴'을 운영하는 김 대표는 컨템퍼러리 한복 붐을 일으킨 스타 디자이너로 손꼽힌다. 이탈리아 브랜드 체루티 판매담당, 루이비통 RTW 의류 팀장을 거쳐 2004년 '차이 김영진'을 론칭하며 한복 디자이너로 변신했다. 2015년 영국 빅토리아 앤 알버트 뮤지엄이 한국 대표 패션으로 김씨의 한복 세 벌을 소장하고, 모델 나오미 캠벨이 한국 패션의 정체성을 보기 위해 김씨의 매장을 찾으면서 유명세를 탔다. 최근 영화와 공연 의상을 제작하며 대중적으로 친숙한 이름이 됐다. 김 대표는 "드라마 '미스터 션샤인'의 고예신(김태리 분) 의상을 만들 때 신미양요 이후 복식 재현에 초점을 뒀다. 여주인공 캐릭터를 드러내면서 아름답게 보이기 위해 원색적이고 화려한 컬러를 많이 사용했다"고 말했다.
김 대표는 "한복은 동시대성을 가져야 한다"고 강조했다. 우리나라가 서양복식을 입기 시작한 건 일제 강점기부터. '일제 강점기를 지나지 않고 계속 한복을 입었다면'을 가정한 후 현재 한국인이 입을 법한 옷을 디자인한다. 한복의 특징인 '평면 재단'을 원칙으로 다양한 시도를 하고, 시즌마다 새로운 스타일을 제시한다. 대표작인 '철릭 원피스'는 남성 무관의 옷을 변형시켜 만들었다.
한복의 세계화를 위해서는 '삼권분립'이 필요하다고 제안했다. "디자이너, 장인, 홍보 판매 담당이 끊임없이 대화하고 객관적인 시선으로 한복을 만들 때, 좋은 한복을 만들 수 있다"는 설명이다.
한국이미지커뮤니케이션연구원(CICIㆍ대표 최정화 한국외대 교수)이 주최한 이번 행사는 입 웨이 키엣 주한 싱가포르대사, 모세 초머 주한 헝가리대사, 이영혜 디자인하우스대표, 송승환 PMC프러덕션 대표 등이 참석했다.
이윤주기자 misslee@hankookilbo.com